Today pastor Matt talked about a brave man in the Bible named Gideon! Watch this short video and do this fun craft! Keep reading your Bible and praying kids! We love you and miss you!
MEMORY VERSE: Judges 7:20 "...The sword of the LORD and of Gideon!"
PRAYER: May we be brave like Gideon, knowing that God is with us.
ACTIVITY: Torches and Trumpets
Materials needed: 12" x 12" piece of aluminum foil, one 12" x 18" piece of brown construction paper, one large sheet of orange tissue paper, tape, marker or crayon.
Hand out brown construction paper.
Write "Gideon And His Brave 300" and "Judges 7" at the smaller top of the paper.
Loosely roll brown paper. Tape to secure.
Squeeze ONLY the lower half of the brown paper to create a "lamp" or "torch."
Hold orange tissue paper by the middle of the paper and shake downward.
Gently and loosely stuff inside the top of the lamp or torch, leaving edges showing to look like a torch.
Set torch aside.
Roll foil loosely.
Carefully squeeze the foil into a long tube EXCEPT for the bottom of the foil.
Flare bottom edges of foil to resemble a trumpet.
Have all the students stand in a circle with their trumpets and torches.
The Bible teacher pretends to break the pitcher, then the students hold their torches or lamps, blow their trumpets, and shout "The sword of the LORD and of Gideon!"
Practice again! It's fun...and it's learning!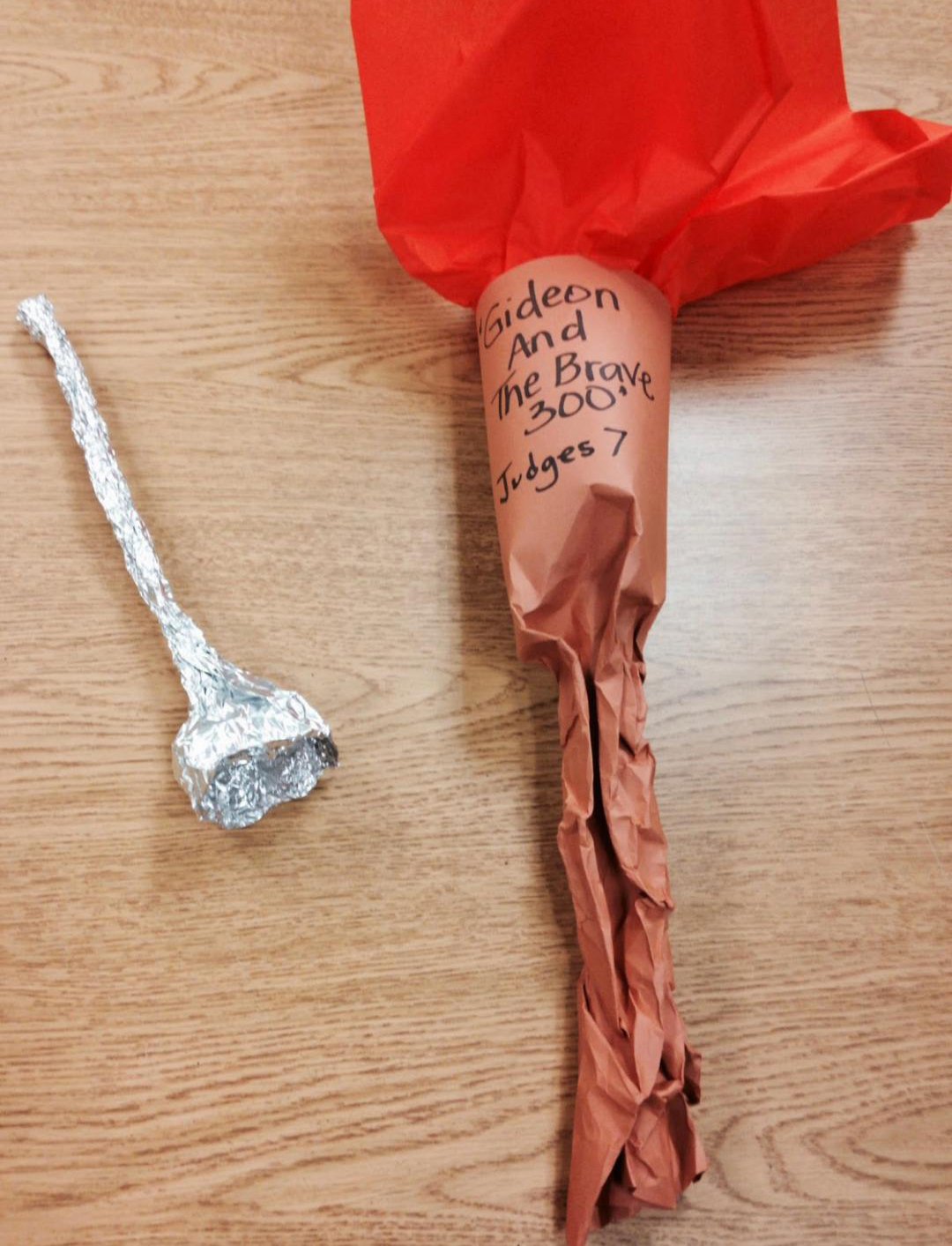 We are committed to teaching children what it means to have a relationship with God. Our classes provide fun-filled activities combined with purposeful Bible lessons in an environment where each child feels loved and accepted.
To learn more about these opportunities for your children, contact the Children's Ministry Coordinator at nicole@waverlylife.com or 319.352.2038.